A Right-Sized, Integrated HVAC System for Indoor Comfort and Health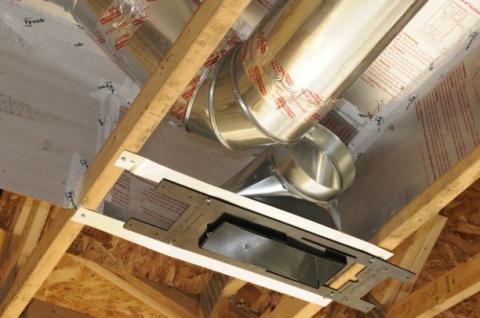 To fulfil the mission of the Sustainable, Healthier Home—a demonstration project involving Charis Homes, Pro Builder, and the Energy & Environmental Building Alliance (EEBA)—a strategic and systematic approach to the home's heating, cooling, ventilation, and indoor air quality (IAQ) performance was essential.
Blessed with an inherently tight, insulated thermal shell courtesy of the insulated concrete forms used for the perimeter walls, Charis Homes turned to HVAC/IAQ experts at Mitsubishi Electric and Aprilaire to deliver a right-sized, energy-efficient, reliable system for superior occupant comfort and health.
Relying on Manual J load calculations and Manual S equipment selection tools, supplemented by Mitsubishi's proprietary Diamond System Builder software, Charis Homes' lineup includes Mitsubishi's electric Hyper Heat air-source heat pumps serving both ducted and ductless VRF/mini-split systems coupled with a whole-house energy recovery ventilator (ERV) from Panasonic and a MERV-16 air purifier and a whole-house dehumidifier and humidifier from Aprilaire.
"We require Manual J and Manual S calculations from our HVAC contractors to make sure we balance energy efficiency, cost, and indoor comfort," says Glenna Wilson, founder and owner of Charis Homes, an Ohio builder focused on the 55-plus market and dedicated to building high-performance homes. "Right-sizing equipment to serve the low-load homes we build is essential to our mission."
Adds Mike Schaefer, senior manager of performance construction at Mitsubishi Electric, "A properly sized HVAC system provides optimal efficiency and run time, eliminating short cycling and providing better humidity removal, and consistent air filtration." In addition, Schaefer says, the mechanical system will operate at optimal run times, reducing wear and tear and extending the life of the equipment. 
Humidification, Filtration, and Comfort
"A healthy body is a properly humidified one," says Joseph Hillenmeyer, senior channel marketing manager for new construction at Aprilaire.
In the summer, he says, Ohio's typically hot, humid air can lead to mold and mildew that aggravates asthma symptoms. In a Midwestern winter, heating the air creates dry conditions that irritate the eyes, nose, and throat. "A whole-house dehumidifier and whole-house humidifier will help keep indoor relative humidity within 40% to 60% year-round," he says, the range recommended by ASHRAE. 
Meanwhile, the company's MERV-16 air purifier traps up to 99% of asthma and allergy triggers, as well as 96% of virus-size particles, as air passes through the filtering system.
The Mitsubishi air-handling unit (AHU) selected to serve the main level of the home accommodates high-efficiency air filtration, Schaefer says, which, along with the duct system being inside the thermal envelope, provides peak indoor air quality. An optional bonus room upstairs is on a separate ductless system not tied to the main home ductwork.
"That setup allows for two completely separated zones, each with their own air filtration system," Schaefer says. "Not only will the homeowner have complete comfort control in both zones, but there will also be zero cross-contamination of air since the systems are not tied together."
Indoor Air Quality and COVID-19
Of course, indoor air quality already was gaining traction in new-home construction before COVID-19, but the pandemic (and air quality concerns driven by wildfires in the West) have certainly raised awareness about the value and benefits of systematic IAQ solutions. "Consumers now have a much greater understanding of how ventilation rates and filtration efficiency impact human health," Hillenmeyer says.
New technology—especially smartphone apps—also has made it easier for homeowners to interact with their mechanical systems remotely instead of crawling into closets, basements, and attics to adjust, service, or monitor equipment—a relatively new development that also raises consciousness of system benefits. "Consumers are aware of the products and learning more about why they need to be installed," Hillenmeyer says.