Pro Builder - ICF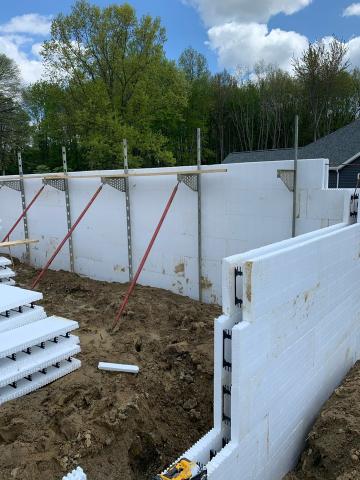 The year-long rise in lumber prices has renewed builders' interest in alternative structural solutions, from concrete block and steel to more "niche" systems, such as insulated concrete forms, or ICFs.
"With the high costs of lumber, we have seen a savings of approximately $2,000 in materials," says Glenna Wilson, founder and owner of Charis Homes. But ICF technology isn't new to Wilson or her trades. "I've trained my framing contractor in ICF installation, so I don't see an increase in labor costs from using them," Wilson says.
The 2,769-square-foot, single-level, three-bedroom, three-bath home also benefits from the inherent insulating value of the ICF system. By design, the lightweight, interlocking blocks serve as both the poured concrete forms for the home's perimeter walls and provide 2½ inches of expanded polystyrene (EPS) foam to insulate the interior and exterior walls, respectively—an overall thermal value of R-26, or about 58% more efficient than a wood-framed wall.
The system also serves as an air barrier and vapor retarder, eliminating the need—and cost and time—to purchase and install those products separately to achieve the same performance. "A big plus with ICF is there is no thermal transfer in the ICF walls or air infiltration," Wilson says. "The benefit is fewer allergens entering the home, making it a healthier home."
That's important, as Wilson and her team work to deliver a Zero Energy Ready Home for buyers who often are cost-sensitive and demand a comfortable and healthier indoor living environment.